GDPR: how we protect your data
Utixo takes all necessary measures to preserve the security and confidentiality of personal data processed. The main commitment is to prevent them from being hacked, damaged or unauthorized third parties from accessing them. We make you GDPR compliant.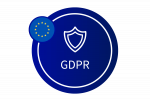 The General Data Protection Regulation (GDPR) is the legal framework for the processing of personal data in Europe, effective May 25, 2018. Unlike Directive 95/46/EC previously in force, the GDPR has direct application throughout the European Union and does not require national transpositions. As such, it will promote the harmonization of legal regimes in the area of personal data protection in Europe. Better yet, the GDPR has a principle of extraterritoriality that allows, under certain circumstances, its scope to be extended beyond European borders.
If personal data are processed in your facility, there is a good chance that you are subject to the provisions of the GDPR and therefore you will have to fulfill certain obligations.
By choosing Utixo to protect your data, depending on the position needed for your organization, it may have different positions, i.e., as an appointee or as a processor of your data.
GDPR: definitions to understand it
Understanding a European regulation is not always easy, especially when it contains 99 articles, 173 recitals, 11 chapters and many guidelines to make it clearer. Therefore, it is essential to know the GDPR in order to avoid any risk from misinterpreting the regulatory obligations imposed. Here are some definitions to know:
Utixo's commitment as data processor.
This is certainly where your expectations of Utixo are most impactful, in which case Utixo plays the role of "processor" when it processes personal data on behalf of a controller.
This is the situation when using Utixo services and storing personal data on an infrastructure. Within the limits of its technical constraints, Utixo will process the hosted data only according to your instructions, and on your behalf.
In the role of data processor, Utixo is particularly committed to performing the following actions:
Utixo's commitment as the data processing RESPONSIBLE.
Utixo plays the role of "data controller" when it determines the means and purposes of its processing of personal data.
This is the case when Utixo collects data for billing, service and performance improvement, sales operations, commercial management, etc., but also when Utixo processes the personal data of its employees.
In this case, "your" data hosted on Utixo services, are not affected, unlike some information about you or your employees (e.g., information about the identity and contact details of your contact in Utixo as part of a support request). This is why Utixo is keen to explain the safeguards put in place to ensure the protection of this personal data, and that is in detail:
In the case of problems, the standard Service Level Agreement (SLA) provides for problem resolution within 2 hours in 98% of cases, within 6 hours in 2%.
It is possible to agree on different and specific SLAs designed on customer needs.
FAQ - Frequently Asked Questions