Shop securely with the most convenient payment method.
Utixo has implemented a unique automatic service and payment management system, in most cases services are turned on and off independently by the management system based on payments received.
Therefore, it is important that the renewal confirmation and payment arrive before the service expires to avoid service suspension.
Some payments take a few days to register so it is always best to proceed well in advance.
Below we summarize the payment methods provided by Utixo and the related technical time for registration of the same :
Bank transfer to IBAN BE50967105104718 SWIFT / BIC: TRWIBEB1XXX
It is the primary IBAN on Belgian bank with automatic payment control via open banking protocol, the wait for registration is about 1-3 days.
Bank Address : TransferWise Europe SA Avenue Marnix 13-17 Brussels 1000 Belgium
Beneficiary : UTIXO ITALIA S.R.L.
Bank transfer to IBAN IT77C0623056840000044565778 SWIFT / BIC: CRPPIT2P217
It is the secondary IBAN on Italian bank with manual control of receiving transfers so the wait for registration is about 2-4 days.
Bank address: CREDIT AGRICOLE Via Giacomo Matteotti, 26/28, 26013 Crema CR
Beneficiary: UTIXO ITALIA S.R.L.
Paypal: the email for paypal payments is : paypal@utixo.it
With paypal payments the credit is immediate
Credit cards : major cards VISA, MASTERCARD and AMEX accepted
With a credit card, payment registration is immediate
SEPA Direct Debit European
Direct debit to bank account, takes about 10 days to credit

We use the best and most secure payment gateways, Stripe is a fully integrated, cloud-based global payment processing platform. It allows us to accept payments in 135 currencies and by a wide range of methods, including SEPA debit, credit, and direct debit cards.
The convenience of SEPA DIRECT DEBIT
We are familiar with the headache of having to remember to send this or that transfer every month. Not only bills, but various online services and subscriptions of all kinds require frequent payments, often even to foreign countries. If you want to forget about it and enjoy your days while fixed charges are paid automatically on the pre-determined date, SEPA Direct Debits are for you. By activating a SEPA debit, you authorize withdrawing the amount of certain payments directly from your bank account, without you having to do anything.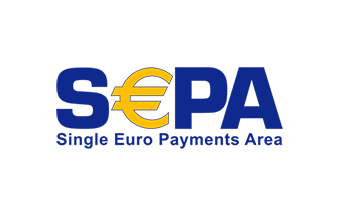 Automate payments: monthly installments and flexibility
Cloud services are managed in a fully automated mode, they give the advantage of being very flexible and being able to activate only what you need, at the same time they require numerous small payments. To avoid disruption or loss of data, we strongly recommend that you enter an automatic payment mode i.e. credit card or SEPA direct debit. This way you can also request payment in small monthly installments, plus Utixo will always send you payments in advance so that you can accept them or stop them with a simple operation. It will be like having monthly bills.