Microsoft 365 business buying guide for SMBs: which version to buy?
When and how did Microsoft 365 come into being?
Before we talk about Microsoft 365 business provide some clarity. In April 2020 the Microsoft Corporation made the rebranding of Office 365 official by renaming it to Microsoft 365.
Going back: the first version of Office was born in 1989, announced by Bill Gates in Las Vegas.
Office is a suite of productivity software. It includes a set of desktop and online applications that allow users to create, edit and manage documents, spreadsheets, presentations, e-mail, calendars, notes and more. The first version included only Word, Excel and PowerPoint. Later in the article we will go into detail about each application.
Office in 2013 also became available in a cloud version, then called Office 365. This is sold as a subscription service, unlike the original version which is purchased with a one-time permanent license. This means that Office is hardware-bound and each device requires a copy of the package. Instead, Microsoft 365 (henceforth we will no longer speak of Office 365) binds itself to the user, allowing installation on multiple devices, even simultaneously. This allows users to always enjoy the latest versions of applications and access their documents and data from any device.
What has changed since the rebranding?
Since 2020, in addition to the original version of the productivity suite, with the new Microsoft 365 subscription plans have been updated and new features introduced.
Subscriptions are divided into 4 major options based on who the purchaser is:
Personal and family
Education
Companies
Large enterprises
In this article we focus especially on the third type, designed especially for SMBs, which is identified as Microsoft 365 business. In turn, this is divided into 4 subscriptions renewable monthly or annually according to the needs of the company.
What do Microsoft 365 business plans include?
One must consider Microsoft 365 business a true enterprise collaboration environment that enables dramatic increases in productivity and management of the entire IT system. The main components you find in each plan are the following applications:
WORD: processes text with a wide range of formatting tools, creates structured documents such as letters, articles and reports, adds images, tables, charts and other visual elements.
EXCEL: Create spreadsheets with cells organized in rows and columns. Each cell can contain numeric, textual data or formulas that perform calculations and manipulations of the data, simplifying them.
POWERPOINT: makes slides containing text, images, graphics, animations and other visual elements to communicate effectively and engagingly during presentations, conferences or meetings.
OUTLOOK: Sends, receives and manages e-mail, organizes calendar, contacts and tasks, enabling efficient management of personal and professional communications.
ONEDRIVE: store, synchronize and share files and documents online. It offers storage space accessible from any device, allowing you to access your files from anywhere and share them with others easily and securely. The minimum space offered is 1 TB per user.
MICROSOFT 365 APPS FOR BUSINESS
This is the simplest plan and has the suite just illustrated in full desktop and web versions with the exception of Outlook. This means that you can install the apps directly on your computer, and you can also use them offline.
It also has two other applications available only for PCs. These, in fact, were originally developed and made available only for the Windows operating system.
ACCESS: creates enterprise database apps without the intervention of a programmer, based on templates or from scratch. It is often used to manage significant amounts of structured information, e.g., inventory data, customer information, financial reports, etc.
PUBLISHER: Offers a range of tools and features that simplify the creation of design documents. These can be professional documents such as brochures, flyers, pamphlets, newsletters, and business cards. It is especially useful if you want to create marketing materials.
MICROSOFT 365 BUSINESS BASIC
The Basic plan, unlike the previous one, offers the basic Office suite only in web and mobile modes. This means you can use it from any device connected to the Internet through any browser. It does not include Access and Publisher, but does include:
TEAMS: chat, make audio/video calls, hold virtual meetings and share files in a single integrated interface, facilitating communication and collaboration among members of a team or organization, up to 300 participants.
EXCHANGE: eliminates the need for companies to manage and maintain their own on-site e-mail servers; it is a cloud-based mail server. It can be accessed through various e-mail clients such as Microsoft Outlook. It also offers advanced security and data protection features, such as spam filtering, message encryption, and malware protection.
SHAREPOINT: creates internal Web sites, enabling people within an organization to share, structure and manage documents with real-time collaborations. All you need is just a device and a web browser.
MICROSOFT 365 BUSINESS STANDARD
It is a very popular subscription among users. It offers all the features seen in Business Basic with the addition of Access and Publisher (PC only). In addition, applications are available in all versions: web, desktop, and mobile. Includes regular updates and access to advanced security and data management features. That is why it is a common choice for many organizations and individual users.
MICROSOFT 365 BUSINESS PREMIUM
We end with the last subscription, certainly the most comprehensive, offering advanced features for more structured needs. In fact, it offers all the components of Business Standard with increased protection from cyber threats, which these days are not to be underestimated.
In addition to all the apps seen so far, we also find Intune and Azure in this plan, which enable the protection of sensitive corporate information on all devices in the organization. They can also enable data encryption, enforce access restrictions, allow remote locking or data erasure if the device is lost or stolen. They allow you to implement multi-factor authentication for additional security and simplify employee credential management.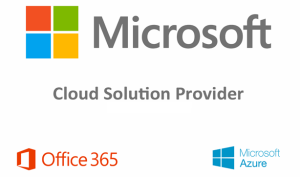 As a direct partner Microsoft CPS (Cloud Solution Provider), Utixo provides Microsoft 365 solutions by adding consulting, training, support and integration with other cloud products used by the company. The choice of Microsoft 365 business subscription depends on the specific needs of the organization and its users (if there are more than 300, then you need to switch to the large enterprise plans). You should carefully compare the available options to determine which plan best suits your needs. If you are struggling or would like to confront one of our counselors, please do not hesitate to write to us, we will be happy to offer support.
However, from our experience, we can say that a relevant factor to consider when purchasing a Business plan is the use of the apps in web or desktop mode.
If you prefer a lightweight and flexible experience, web-based use may be right for you. This mode is especially useful if you work from different devices or need to share and collaborate on documents in real time with colleagues or clients. Business Basic may be the best option.
Needing advanced features, more flexibility in processing files, and the ability to work offline, use via desktop may be the best choice. In this case you might consider the Apps for Business plan.
Finally, Business Standard's hybrid option allows you to start working on a document through the desktop application, save it to the cloud, and then access and edit it through the web version if needed.
Each option has its advantages and disadvantages, so carefully consider your needs and preferences to determine which Microsoft 365 plan is best suited to your particular case. You can find all subscription prices by clicking
here.